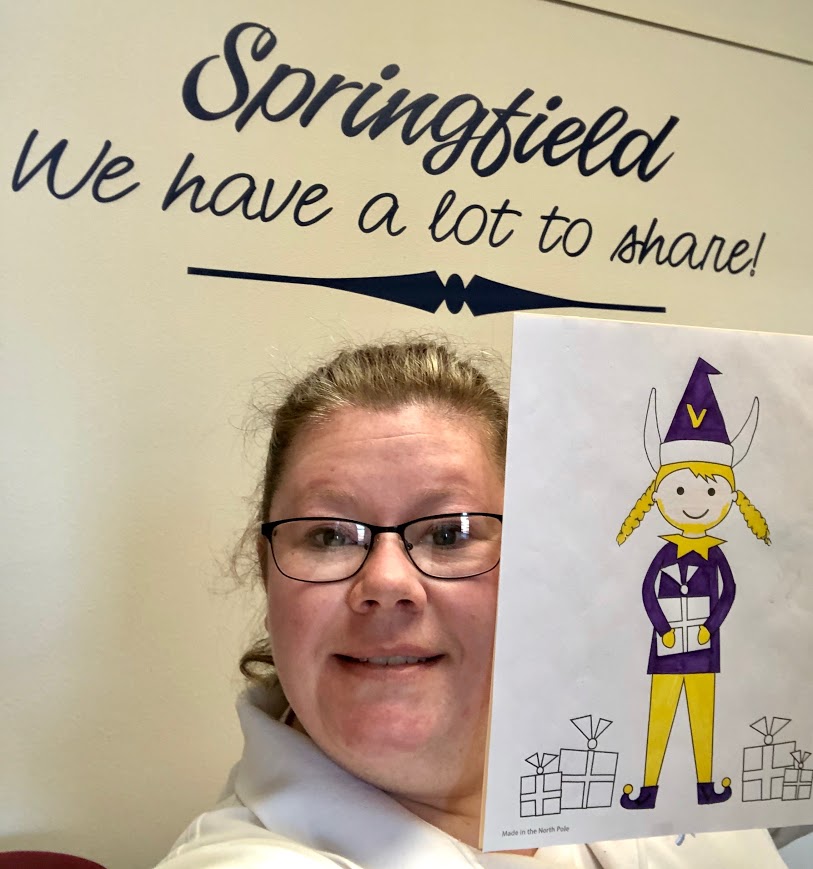 Take a Selfie with Elfie to be entered into a weekly drawing for $50 in Chamber Bucks!
Our weekly winners of $50 in Chamber Bucks are:
Week 1 –  Ashley Schwarzrock
Week 2 – Jim Rogotzke
Week 3 – Teresa Kastner
Step 1 – Visit the participating Chamber businesses listed below each week and take a Selfie with the Elfie. (must be 18 or older to participate)
Week 4 – December 6th – December 12th:
Comfrey Bar & Grill
Runnings – Springfield
Springfield Advance-Press
Farmers & Merchants State Bank – Springfield
St. John's Circle of Care
Step 2 – Post your selfie to the: Springfield Area Chamber of Commerce Facebook Page https://www.facebook.com/SpringfieldAreaChamberOfCommerceCvb/ with the hashtag #2019elfie56087 to be entered for a chance to win the weekly drawing for $50 in Chamber Bucks (video instructions on how to post your selfie – click HERE)
Limit one selfie/entry per eligible person per participating business.
Increase your chances to win by taking a Selfie with Elfie at all 5 participating businesses each week.
The weekly drawing to be held on Mondays at noon starting Monday, Nov. 25.
The winners will be posted on the Chamber Facebook page and website www.springfieldmnchamber.org
Winning individuals are encouraged to contact the Chamber Office to pick up their prize.
507-723-3508
Contest Dates and Participating Chamber Businesses:
Week 1 – November 15th – 21st:
Halvorson's Office Express
F & M Insurance
Farmward Cooperative
Good Neighbor Thrift Store
Miesen's Color Center
Week 2 – November 22nd – 28th:
Springfield Market
Nuvera
SouthPoint Financial Credit Union – Springfield
Pink Swan Boutique & Beauty Parlour
Springfield Handi-Mart/Fuel Max
Week 3 – November 29th – December 5th:
Thrifty White Pharmacy
Lang's Automotive
St. Paul Lutheran Church, LCMC
Ed's Repair of Springfield
Riverside Animal Clinic
Week 4 – December 6th – 12th:
Comfrey Bar & Grill
Runnings
Springfield Advance-Press
Farmers & Merchants State Bank
St. John's Circle of Care
Week 5 – December 13th – 19th:
Springfield Public Library
Outlaws Bar & Grill
Sterling Travel
Absolute Style
Drs. Akre & Clark, LTD – Springfield