Mission Statement
The mission of the Springfield Area Chamber of Commerce/CVB is to strengthen the business community and take a leadership role in promoting economic growth in a spirit of cooperation and team work.
Vision Statement
As a membership driven organization, the Springfield Area Chamber of Commerce seeks to:
Promote economic growth through the recruitment and retention of quality businesses and industries that will contribute to the overall economic health of the community.
Provide the membership networking opportunities, referrals, internet promotion and other membership services to promote and enhance their business.
Develop and nurture relationships with local government and other community sectors to help facilitate the needs and interests of the business community.
Enhance the overall quality of life within the community.
2020 Membership Dues Structure
| Group | Examples | Fee |
| --- | --- | --- |
| Friends of the Chamber | Individuals or couples | $35 |
| Home-Based Businesses | | $60 |
| Smaller Service & Retail, Non-Profit | Churches, Hair Stylists, Non-Profit, Smaller Retailers, Taverns | $135 |
| Mid-Service & Retail | Chiropractic, Insurance, Investments, Lodging | $180 |
| Large Service & Retail, Manufacturing, Construction | Attorney Offices, Construction & Manufacturing Businesses, Dental, Funeral Homes, Optometry | $240 |
| Large Industry, Financial Institutions | Banks, Credit Unions, Hospitals, Large Ag Companies, Nursing Homes, Utility Companies | $750 |
| | | |
| | | |
The 2021 Membership Booklet is available in PDF format HERE
Committees
Retail Committee
Meets the 1st Tuesday of each month at noon at the Springfield Community Center.
All chamber members are welcome to attend the meetings and take part in this committee.
Retail Committee Promotions
Ladies Night Out
Spring Open House
Spring Plant Giveaway
Medallion Hunt – Riverside Days
Holiday Open House & Jingle Bell Ticket Promotion
2020 Retail Calendar of Events (subject to change)
January 15 – Annual Meeting
February 19 – Business to Business After Hours
March 16-20 – "Go for the Green" promotion
Spirit of Springfield & Business of the Year Awards Banquet (date to be determined)
Spring "Plant Giveaway"
Spring – Lunch Wagon at Springfield Market
June 5 – Chamber Golf Tournament
June 23-28 – Riverside Days
Summer – Business to Business Lunch & Learn
Fall – Lunch Wagon at Springfield Market
Fall – Business to Business Lunch & Learn
Winter – Shop Springfield First Breakfast
Winter – Holiday Open House, Jingle Bell Ticket promotion starts
Winter – Holiday Lighting Contest
Watch the Chamber Chatter as dates could change
General Board
Meets the 1st Wednesday of each month at noon at the Springfield Community Center.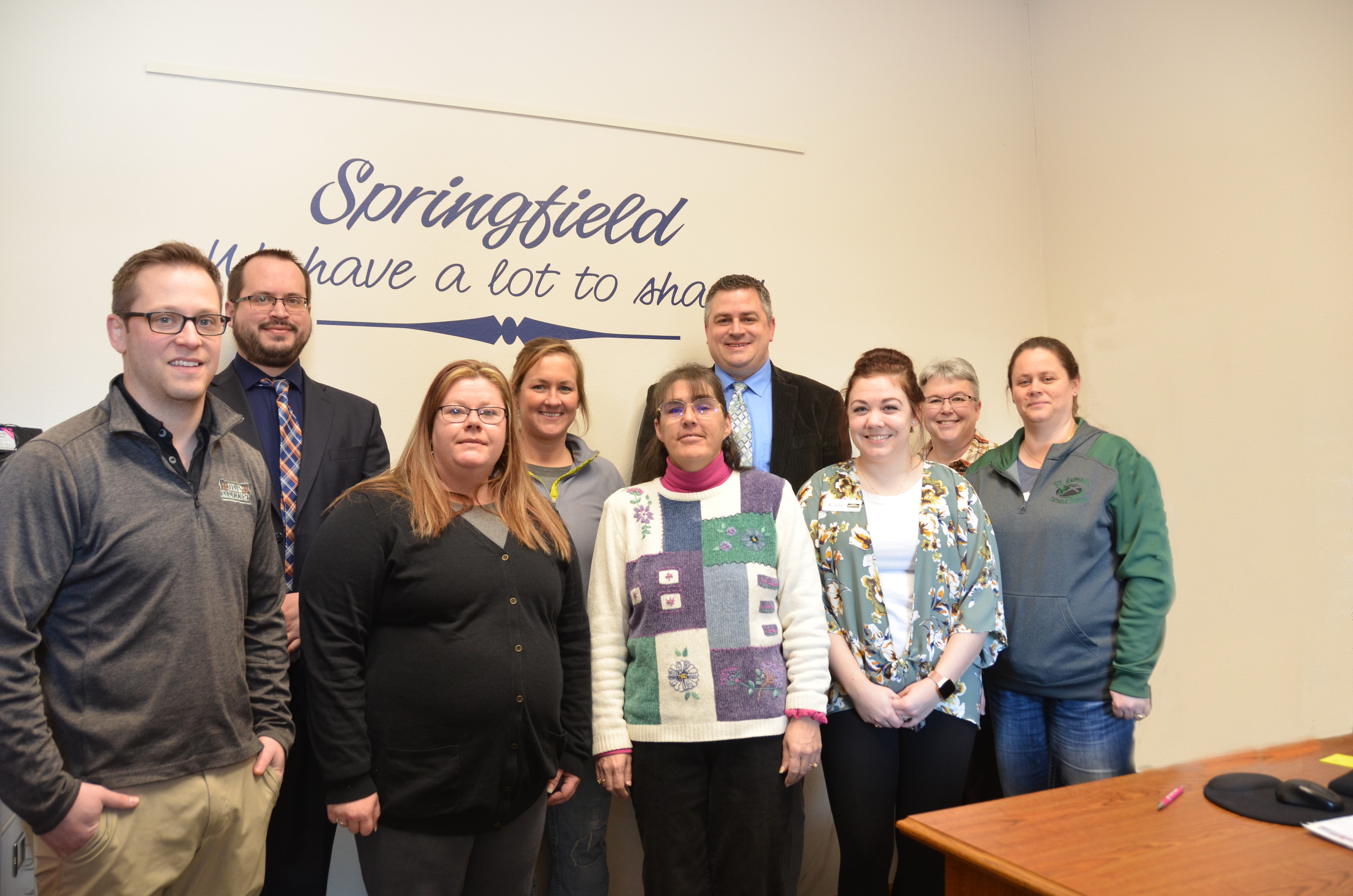 2020 General Board
(L-R) Brady Schneeberger, Matt Muske, Denise Gicker, Christina Wagner, Rachelle Halvorson, Mike Granda, Kayla Tibboel, Deb Miesen & Jill Riederer (missing Chrissy Boerboom)
General Board Members – 3 year terms
Kayla Tibboel – SouthPoint Financial Credit Union
Chrissy Boerboom – St. John's Circle of Care
Matt Muske – Muske, Muske & Suhrhoff
Mike Granda – F & M Bank

Christina Wagner, Riverside Animal Clinic

Rachelle Halvorson – Halvorson Office Express
Deb Miesen, Miesen's Color Center
Brady Schneeberger, Springfield Market
Denise Gicker – Director, Springfield Chamber of Commerce
Jill Riederer – Springfield Area Community Center (no term limit)
General Board Promotions
Chamber lunch wagons at Springfield Market
Business to Business Lunch & Learn Luncheons
Annual Meeting
Golf Tournament
Riverside Days
Spirit of Springfield & Business of the Year Awards
Holiday Lighting Contest
Promotes Springfield via the lodging tax income from the Microtel Inn & Suites by Wyndham and Rothenburg Campground. We advertise in Explore Minnesota, SMTA, Walnut Grove, The Sailor and distribute Springfield Brochures locally and in area communities.
CVB Members – 3 year terms (term up) – meet as needed
Lindsey Ludewig  (2016)
Derek Tonn (2017)
Arden Brand (2018)
Matt Skaret (City)
Ben Luense (Microtel)
Katie Mueller (Chamber)
Why Join
Some of the key reasons why a business should join the Chamber are –
To support the organization working on their behalf to increase business and create jobs in the Springfield Area.
To expand their business by participating in Chamber programs and networking with other businesses.
To support the development of the community and have a voice in its direction.
To give back to the community that supports their business.
It promotes positive business practices, therefore creating an upbeat outlook on our community.
Members accept Springfield Bucks. This creates local economic impact of over $28,000.
Member Benefits
Opportunity to redeem Chamber Bucks at the three financial institutions in Springfield and the Chamber office
Receives a Chamber Membership Plaque – updated yearly
Receives the Chamber Chatter newsletter and other community information via e-mail or mail
Receives yearly calendar of events
Members listed in Advance Press three times per year
Can place advertisements in Welcome Wagon Packet and Camping Packets at no charge
Listed in Springfield EDA directory with Chamber member listing first in each category
Free listing on Chamber website
Community Calendar – community event listing
Retail Promotions print and radio ads are paid by the Chamber
Accept Chamber Bucks