Print your Bingo card HERE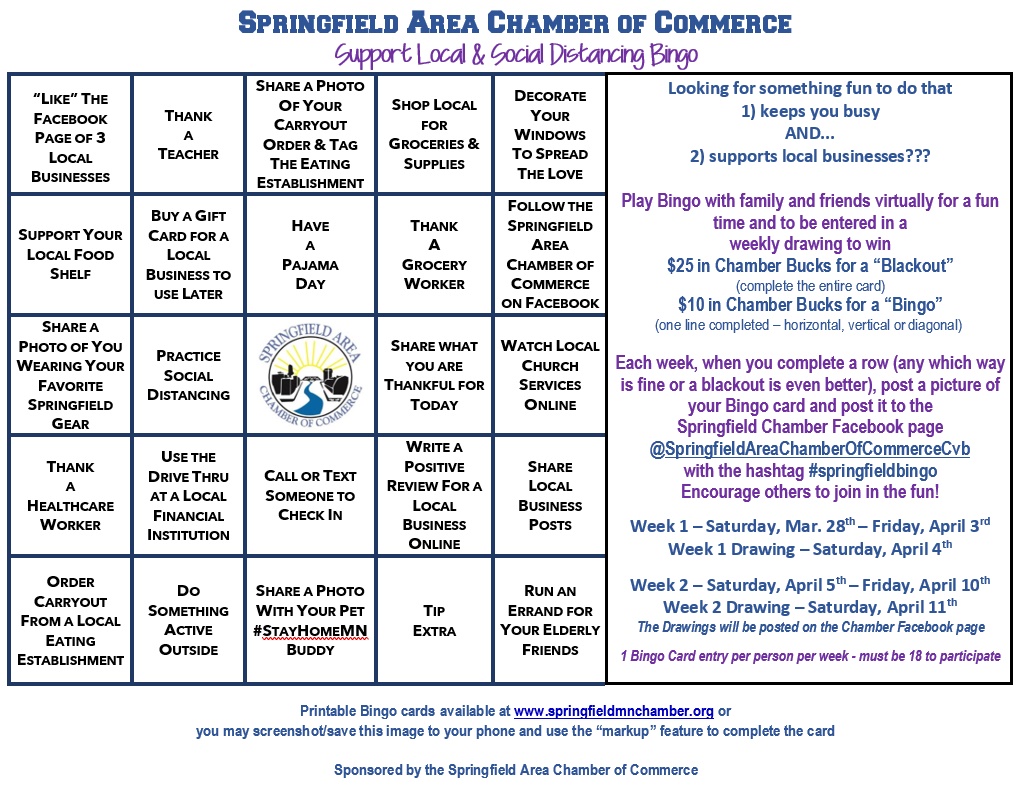 Looking for something fun to do that
1) keeps you busy
AND…
2) supports local businesses???
Play Bingo with family and friends virtually for a fun time and to be entered in a weekly drawing to win $25 in Chamber Bucks for a "Blackout" (complete the entire card) or $10 in Chamber Bucks for a "Bingo" (one line completed – horizontal, vertical or diagonal).
Each week, when you complete a row (any which way is fine or a blackout is even better), post a picture of your Bingo card and post it to the Springfield Chamber Facebook page @SpringfieldAreaChamberOfCommerceCvb with the hashtag #springfieldbingo. Encourage others to join in the fun!
Week 1 – Saturday, Mar. 28th – Friday, April 3rd
Week 1 Drawing – Saturday, April 4th
Week 2 – Saturday, April 5th – Friday, April 10th
Week 2 Drawing – Saturday, April 11th
The Drawings will be posted on the Chamber Facebook page
1 Bingo Card entry per person per week – must be 18 to participate
Printable Bingo cards available at www.springfieldmnchamber.org or you may screenshot/save this image to your phone and use the "markup" feature to complete the card.
Sponsored by the Springfield Area Chamber of Commerce