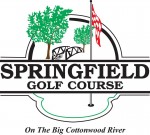 Business Description
Facebook - https://www.facebook.com/Springfieldgolf
The Springfield Golf Course is a beautiful 9 hole track along the Cottonwood River on the south edge of Springfield Minnesota. Built in 1956, the course offers a fair but challenging golf experience with tight fairways and mid-sized greens that are sloped back to front. Golfers of all abilities will enjoy the beauty and challenge of this golf course.
Clubhouse Manager: Jocko Meyers
Course Superintendent: Jeff Kretsch
Course Ratings:
Black 69.2/119 3134 yds
Blue 68.6/118 3073 yds
Red 69.0/117 5152 yds
The club house has a full service bar with a patio overlooking the 9th green. THE DRINKS ARE STRONG AND THE PRICES ARE RIGHT!!!
Green Fees are currently 2 for 1 Mon-Wed
Cart rentals available. Call 507-723-5888 for group discounts!
The club house dining room is available for special events. Call the club for details.