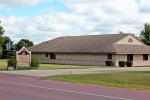 Business Description
Riverview Homestead Cooperating Housing, comprised of 19 units, is a senior housing cooperative that promotes vitality and independence in a secure environment.  Cooperative living enhances a carefree lifestyle without the "hassles" of home maintenance, in a social living environment.
Through their membership, residents maintain ownership of their home and control management of the building through a board of directors. Nineteen one and two-bedroom homes are located in a beautiful brick building with many common room areas for gathering and entertaining.
Building amenities include a guest room, workshop, attached garages, free laundry facilities, an emergency call system, and gardens, among many others. Monthly maintenance fees provide bill consolidation and cover everything from cable TV to taxes, while supporting growing reserves to support asset value.
Each home comes beautifully finished with oak cabinets and trim, floor and window treatments, all major appliances, central heat & air, storage rooms and more.
Guests often comment on the festive holiday decorations, the striking landscaping, and how clean and attractive the building is.