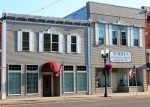 Business Description
Lunch:  Tuesday - Friday 11:00 am - 1:30 pm.  Soup and salad bar, sandwiches, wraps and more.
Dinner:  Tuesday - Saturday open at 5:00 pm.  Steaks, sandwiches, seafood, full salad bar, buffet featuring BBQ ribs, shrimp, cod, chicken and beef tips, desserts and more.   Full bar available.
Closed Sundays and Mondays
Evening specials:
Tuesday:  Chef's Choice Steak Night - might be the filet, prime rib, ribeye or another tasty treat.  Also lutefisk buffet every Tuesday in November, December and January except December 24th and 31st.  Serving lutefisk, swedish meatballs, norwegian sausage, BBQ ribs, shrimp, real mashed potatoes, creamed cabbage, lefsa, soup and salad bar, dessert and more.  $16.99
Wednesday:  Birthday Buffet $2.99 if it's your birthday any day that week.  ID required.
Thursday:  Senior Buffet Night $10.99 (55 and older) and Kids Buffet Night (10 and under) $1.99
Friday:  Seafood Buffet $18.99.  2 kinds of shrimp, battered fish, crab legs, BBQ ribs and beef tips
Prime Rib - King $19.99 or Queen $16.99
Saturday:  Prime Rib  - King $19.99 or Queen $16.99
5 meat buffet with soup and salad bar plus dessert $14.99
Children's menu, take out, catering services and gift cards available.
Can accommodate private parties and meetings.
For reservations, call (507) 723-9191