Springfield Co-op Creamery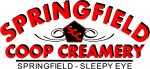 Business Description:
Springfield Co-op Creamery is proud to provide farmers in the Springfield, MN and Sleepy Eye, MN area with a variety of products for farms of all sizes. As local people who understand the vitality of farms in this area, it's our goal to provide both commercial and local farmers with agricultural solutions and supplies to help their farms realize their potential.
Great prices, great products, and a friendly, reliable staff.
Monday – Friday 8 am – 5 pm
Facebook – https://www.facebook.com/Springfield-Coop-Creamery-Association-284793218538391/?fref=ts