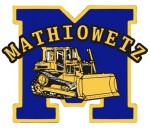 Business Description
Facebook - https://www.facebook.com/pages/Mathiowetz-Construction/119463184743063
Since 1924, In All We Do, We Build It Right!
Mathiowetz Construction is a company that faces all challenges honestly, with enthusiasm, profitability, and will meet every challenge utilizing a solid team of professional employees who enjoy what they do to deliver a quality product. And one challenge remains constant - to balance our spiritual, family, and work lives as we believe.
We are a family owned excavating company. We specialize in heavy highway and private site earthwork, as well as tiling, building pads, demolition, aggregate surfacing, pond cleaning, ditch cleaning, and many other activities. Contact us today for your project, because we will take the time to make sure that what you want is what you get!
We also utilize state of the art GPS technology to assist in the design and quick delivery of a project exactly the way you want it.