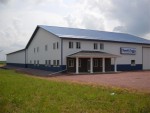 Business Description
Facebook - https://www.facebook.com/pages/Clements-Lumber/184022271623051
At Clements Lumber Inc., our goal is to not only help you design and build your project, but to make the process easy and enjoyable for you. We are a full-service design and build company with a wide range of experience.
Our company is based on the belief that our customers' needs are of the utmost importance. Our entire team is committed to meeting those needs. As a result, a high percentage of our business is from repeat customers and referrals.
We would welcome the opportunity to earn your trust and deliver you the best service in the industry.
We can help you with all phases of new home construction or remodeling, as well as:
- Windows, decks, siding, fencing, roofing, doors
- Hardware, cabinetry, fasteners, paint, stain
- Agricultural shops, confinement barns, machines sheds
- Vineyard supplies
- Utilty sheds
You can call or visit us at any of our four locations.
Redwood Falls
1881 E Bridge Street
Redwood Falls MN 56283
Phone - 507-644-2102
Fax - 507-644-2101
Morgan
214 Morgan Street
Morgan MN 56266
Phone - 507-249-3122
Fax - 507-249-3309
Comfrey
201 Railroad Street
Comfrey MN 56019
Phone - 507-877-2026
Fax - 507-877-3009
Springfield
1275 West Central
Springfield MN 56087
Phone - 507-723-2294
Fax - 507-723-2217