Bolton & Menk, Inc.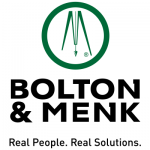 Business Name:
Bolton & Menk, Inc.
Business Description:
Facebook – https://www.facebook.com/BoltonandMenk
Bolton & Menk has a broad range of experience in the areas of civil, environmental and transportation engineering, as well as GIS and landscape architecture.  Bolton & Menk is organized to serve our clients' needs for a wide range of projects with sound, up-to-date practices and principles. Projects of all sizes are approached with creative thinking, leading to the best solution according to the economics, construction techniques and aesthetic qualities desired.