M.R. Paving & Excavating, Inc.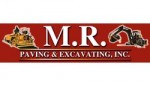 Business Name:
M.R. Paving & Excavating, Inc.
Business Description:
M.R. Paving & Excavating was established in the year 1994 in New Ulm, MN. Our company has become a critical part of the surrounding communities in several ways. One of the ways is through the many services we provide such as residential and commercial asphalt paving, street and road construction, main line and residential sewer and water installation, basement excavation, snow removal as well as residential and commercial site work just to name a few. M.R. Paving & Excavating prides itself on giving accurate and in depth estimates while doing quality work at a fair price.
M.R. Paving & Excavating has a highly professional, experienced and talented work force employed during the busy construction season. We also offer products and services through three other branches of our company: Valley Asphalt Products,Valley Demo & Recycling, and Prairie Land Development. Through our Valley Asphalt division we offer a variety of asphalt products including both hot and cold mix asphalt. Our Valley Demo & Recycling division concentrates on disposal of construction and demolition debri at our demolition landfill and reusing and recycling road construction materials such as asphalt, concrete and aggregates. Prairie Land Development, our newest division, consists of commercial lots for development and purchase.